FREEDOM HOUSE, INC.
806 WALNUT STREET
FORT WAYNE, IN 46802
(260) 456-8097
STATEMENT OF PURPOSE AND REGULATIONS FOR RESIDENTS
PURPOSE:
The primary purpose of Freedom House, Inc. (FHI) is to help the individual start a new way of life without the use of alcohol and/or unauthorized mind-altering chemicals. We feel the only way this can be accomplished is by regular attendance at 12-Step support group meetings, professional help as needed, and a commitment to learning and applying the 12-Step principles in daily life. By using the 12-Steps and the principles of the Alcoholics Anonymous (AA) program, we feel that you will be able to live a happy and useful life. We feel that the house itself cannot offer you sobriety, but by regular attendance at closed and open meetings, as well as adhering to the intended atmosphere of the house, you will become a sober, productive citizen.
FREEDOM HOUSE ETHICS:
As a member of the Indiana Affiliation of Recovery Residences (INARR), the Freedom House staff is committed to abide by the INARR code of ethics which are signed by all staff members and on file in the office and with the INARR. Any resident who has a grievance with the fair and equitable application of those ethics has the right to file such grievance with the INARR by visiting their website www.inarr.org. Under the heading standards and ethics there is a drop down called file a grievance which may be used for than purpose.
REGULATIONS:
1. A male must be at least 18 years old to be a resident.
2. No man will be admitted unless he has been alcohol/drug free for at least 72 hours. Staff reserves the right to ask the prospective, and any existing, resident to obtain a professional evaluation at any time.
3. Any resident not following the HOUSE RULES or failing to cooperate will be disciplined and may be subject to expulsion for continued violations. Residents caught using alcohol and/or drugs will be terminated from the house immediately and without exception.
4. Additionally, if it is determined that a resident is aware that another resident used drugs and/or alcohol; and fails to inform staff, that individual shall also be terminated.
5. A resident voluntarily moving out of the house may do so any time between the hours of 9:00 a.m. and 10:00 p.m.
6. Initial admission shall be approved by staff. Any request for readmission must be approved by the staff, and in certain cases, by the Board of Directors. In all cases where an individual has lived at FHI two times, the board must decide if they are to be allowed additional opportunities.
7. If admission is refused, petition must be submitted to the Board of Directors. Determination will then be made of refusal or acceptance of admission. If the person is denied re-admission, he shall be informed as to the reason.
8. Each resident must attend one 12-Step support meeting per day for the first 90 days of residency. During the first 90 days, residents are required to attend all AA meetings conducted at the house unless they are working. The CA meetings are optional, but residents must either attend those meetings or find an outside meeting. All residents are to attend any meeting being held if they are on the premises. This includes residents of the main house and all other houses. After 90 days, residents are to attend a minimum of four meetings per week, with the Saturday morning and Sunday evening AA held at the house meetings as mandatory. (Note: Exceptions may be made for special circumstances but must be reviewed and approved by staff.)
9. Residents are to get a sponsor to help them work a 12-step recovery program and inform staff as to whom they have chosen. (Note: The Freedom House does not wish to directly intervene in an individuals right to work with sponsors of their own choosing. However, in the best interest of the resident, the staff may advise the resident on the choice of a sponsor.
10. Any resident who uses mind-altering chemicals on the premises, or comes onto Freedom House property using mind-altering chemicals from off the premises will be immediately expelled. Additionally, a resident who is aware that another resident has used mind-altering chemicals either on or off premises, and fails to inform staff will be immediately expelled from the House and the premises. (See rules 3 and 4.)
11. Each resident is responsible for the cleanliness of his own living area, bathrooms after use, and other cleaning duties as assigned by Freedom House staff.
12. The rent covers the residents room and board as follows:
• Evening meals from Monday though Friday.
• Food that the resident may prepare for all other meals including weekends.
(Note: Residents may also buy and prepare their own food for breakfast, lunch and weekend dinners)
• Residents of the other houses will also receive the same meals, but are not to take food from the main house to one of the other houses (late plates excluded), unless they are given permission to do so by staff.
13. The Freedom House suggests that residents commit to a minimum stay of six months with the recommended stay of a year to 18 months. Staff shall work with the drug court teams for residents who have been court ordered to live here.
14. Resident's progress will be reviewed with primary staff to ensure compliance with rules and to monitor recovery process. Regular updates on residents will be provided to the Board of Directors. If the Board feels further review with a resident is necessary, staff will conduct the review with the resident.
15. The Director will attend Board Meetings as well as maintain regular contact with Board Members. He will be responsible for bringing issues needing to be addressed by the Board.
16. All residents are subject to random drug screen tests at the discretion of staff. If a resident on drug court misses a drug screen and FHI performs the test, the resident shall pay $20.00 for the administration of the test. The resident is still subject to whatever sanctions the drug court team may deem appropriate.
HOUSE RULES:
Considering the limitations and demands that group living presents to residents, the following rules have been devised so that all may reside in an orderly and manageable manner. House rules will be explained to all residents upon admission. You are responsible for learning the rules and requesting help if you are unable to understand them. Excessive or repetitive rules violations may result in termination from the Freedom House program. In sobriety, we must learn to change our behaviors and attitudes to meet the conditions around us, rather than expecting our environment to adjust to our personal desires. Our primary purpose is to provide an atmosphere of recovery, respect, and courtesy for all Freedom House residents and our rules are designed to promote this goal.
HOUSEKEEPING: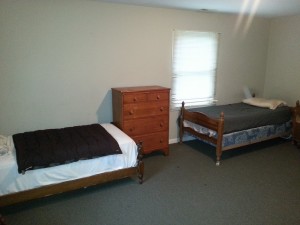 1. Each resident will be responsible for his own room space.
a. Beds will be made when not in use.
b. Rooms will be kept neat and orderly at all times. Trash must be emptied regularly. Dirty laundry must be bagged or in a basket/hamper.
c. Bedding will be washed once a week by the resident, at his own cost.
d. You are responsible for your valuables. It is suggested that anything of value be kept in the Freedom House safe. Freedom House is not liable for lost or stolen property.
2. All residents will be assigned a specific house chore to be completed in the time frame designated on the Chore List description. Morning chores must be complete before you leave for work or 9:00 a.m. whichever is earlier. Evening chores must be complete by 6:00 p.m. at the latest.
a. Each chore MUST be done COMPELTELY, as described on the Chore List.
b. Residents must initial the Chore List upon completion of assigned chore.
c. Each resident is ultimately responsible for completion of their assigned chore and will be held accountable if the chore is not completed.
d. Each resident must make sure their chore is covered if they are going to be on pass, at work, or at some other event. This is to be approved by staff.
3. A full evening meal is served at 5:00 p.m. Monday thru Thursday. A less formal meal (e.g. soup and sandwich) is served at the same time on Friday. All residents are encouraged to be here for the evening meal, as that time is not just for eating but to engage in fellowship with your fellow residents. A sign-up sheet will; be posted every week. Residents who plan to eat must sign up on the sign-in sheet. Residents whop work, but want an evening meal may do so by putting the initials LP (Late plate) in the sing-in slot. Late plates will only be provided for those residents who cannot be present at the evening meal due to work or some other reason which has been approved by staff.
a. Kitchen closes at 9:00 p.m. with no exceptions. This means you cannot use the stove, microwave, prepare a snack, etc.
b. Non-residents are not permitted to eat dinner at the House unless it's a House event.
c. You are responsible for cleaning up any mess you make while preparing any food.
d. No cooking or eating within 30 minutes of a 12-Step meeting unless you have received permission from staff.
4. Residents are responsible for cleaning their own laundry.
a. Detergent, softener, bleach, etc…and coin-operated machines are provided for resident use only.
b. Laundry may be done from 8:00 a.m. through 11:00 p.m. only.
c. Money for House Laundry Chore will be provided by staff.
d. No laundry may be done for, or by, non-residents.
e. Be considerate: remove your laundry quickly from the washer and dryer so other residents may use them.
f. Every time you use the dryer, you must clean the lint catch.
RESIDENT RULES:
1. Each resident must be responsible for their own hygiene, maintaining good habits of cleanliness in all areas.
a. Residents are to be up and ready for the day by 8:00 a.m. on weekdays (excluding 2nd and 3rd shifts) and by 8:30 a.m. on Saturday and Sunday. (Note: During the week Monday thru Friday residents are not to go back upstairs until 4:00 p.m. unless given permission to do so by staff. On weekends residents are permitted to go back upstairs during the day without getting permission from staff.
b. Residents are NEVER PERMITTED in another resident's room UNLESS an occupant of that room is present.
c. Residents are responsible for cleaning up after themselves after using the bathrooms.
2. No alcoholic beverages of mind-altering substances are permitted on the premise nor are they to be used by the resident off the premises.
3. No use of tobacco products including cigarettes, cigars, pipes or chewing tobacco is allowed inside the main house (806 Walnut). E-cigarettes are also not allowed. Additionally 740 Walnut (downstairs) is a tobacco free apartment. Every effort will be made to move non-smoking residents to that unit when they are deemed ready to move from the main house. Any resident violating this rule is subject to disciplinary action up to and including eviction. Visitors are also prohibited from using tobacco products in the main house.
4. No pets are allowed.
5. No guests are allowed above the first floor or on the basement level.
6. Residents are to be appropriately dressed at all times on the first floor and basement level. Shoes must be worn at all times and sox must be worn under sandals so that bare feet are not exposed. Sleeveless shirts may be worn, but not athletic type shirts or shirts exposing an excessive amount of bare skin.
7. No hats, caps or any other type of head covering (e.g. hoodies, dew rags etc.) are to be worn in the house. No sunglasses are to be worn in the house. No headphones are to be worn in the house. Guests, too, are to be appropriately attired. No food is allowed upstairs in 806. No weapons of any kind allowed on any FHI property.
8. The use of cell phones (including texting), computers, tablets, etc. is not permitted on the main floor of 806 Walnut. These devices may be used outside, in the basement, in the residents' rooms, or in the ¾ living facilities. (Note: Residents are expected to exercise courtesy and discretion when using such devices in their rooms.)
9. No gambling is permitted. Residents may play card games such as Hearts, Euchre, Pinochle, Bridge, etc. However, no games which entail betting (e.g. Poker or other games) involving betting will be allowed. Playing card gams during week days is permitted only in the evenings after any 12-Step meeting. On Saturdays, card games are permitted during the day and evening after the 10:00 a.m. AA meeting. On Sundays card games will be allowed during the day until 6:00 p.m. and after the 7:00 p.m. Sunday AA meeting.
10. Freedom House, Inc. is not responsible for loss of personal property or for personal injury on or off the premises.
11. No properties of the House are to be removed from the premises.
12. Rents are not refundable.
13. Television hours are 6:00 a.m. to 9:00 a.m. on weekdays, 5:00 p.m. to 11:00 p.m. on weeknights and 6:00 a.m. to 2:00 a.m. on weekends.
14. The television is to be turned off 15 minutes prior to all 12-Step meetings and remain off for 15 minutes after all 12-Step meetings.
15. Residents are responsible for turning off all lights and fans in their bedrooms. Failure to turn off fans when the residents are not in the room will result in the fan(s) being removed from the room.
16. Residents of the first house are to be upstairs by 11:00 p.m. on weeknights (Sunday thru Thursday and 2:00 a.m. on weekends (Friday and Saturday nights) All lights must be turned off in the kitchen and living room.
17. Each resident is responsible for signing himself in and out when leaving and returning to the house, stating date, time and destination on the sheet provided.
CURFEW:
1. Curfews vary as follows and mean that residents are to be in their own house: New residents: Mon – Sun = 10:00 p.m. (Note: All residents including those with more than 30 days residency are required to be on the premises by no later than 6:00 p.m. on Sundays and are not permitted to leave the premises until after the 7:00 p.m. Sunday AA meeting.
2. Residents with 30 days or more residency: weeknights = 10 pm, weekends (Friday and Saturday) = 12 pm.
3. Violation of curfew may result in immediate termination of residency.
a. Each resident is responsible for informing staff if they are going to be late for the weekday evening meal and/or other curfew by calling the staff on the office telephone: (260) 456-8097.
b. After office hours, the resident is to call the resident line (260) 456-9711 and inform the house watch person, who shall in turn contact staff for further instructions.
c. Each resident must inform staff if any employment schedule, medical, counseling appointment or other emergency problems cause them to be unable to meet curfew times. Notification should be prior to the occurrence.
EMPLOYMENT:
1. Residents must make a concentrated effort to seek employment as soon as possible following admission, informing staff of applications made and interviews completed.
a. Residents must actively seek employment on a daily basis, until employed. Staff reserves the right to require that residents document their job search by completing a job search sheet. (If you don't have a job, your full time job is to look for one.)
b. Resident may not be employed where alcoholic beverages are served unless approved by staff.
2. Residents must inform staff of their place of employment, telephone number for emergency use and work schedule.
3. Residents are not allowed to work 2nd or 3rd shifts unless approved by staff.
4. Any residents given permission to work outside the normal parameters of hours is responsible for meeting required 12-step meeting attendance
WEEKEND PASSES:
1. In order for residents to adjust to the Freedom House program, no weekend passes will be permitted during the first 30 days.
2. Weekend passes are a PRIVILEGE and, therefore, must be EARNED. Passes will be permitted only under the following conditions:
a. Resident has accepted his responsibility to maintain employment and made a good effort to pay his rent and are not in conflict with the resident's recovery program.
b. Resident has consistently demonstrated a willingness to work on personal goals, including recovery program, emotional, mental and financial stability.
c. Resident has made definite plans for a weekend pass, which have been pre-approved by staff no later than 5pm on the Thursday evening prior to the desired pass.
d. Saturday night passes begin after the 10am Saturday AA meeting.
e. Residents must sign out for weekend pass in the designated logbook, listing time, date of departure, destination address and phone number for emergency.
f. The first pass will be for one night only. After that, residents may take two-night passes.
g. Residents may not take a pass on concurrent weekends. (Two weekends in a row)
h. Residents are responsible for ensuring that their chores are covered or must return to do them themselves.
i. Residents taking a pass on Saturday night are to be back at the Freedom House by no later than 6:00 p.m. on Sunday night. (Note: This includes residents not on pass as well. See item 1. under curfew section.)
MEDICATION ILLNESS:
1. All residents must report any illness to staff.
2. Any resident who is too sick to go to work will remain in the House the entire day, and talk with staff to determine if they are too ill to attend meetings. Resident must attend meetings unless determined by staff that they are too ill.
3. All prescription medication will be kept in the Office and the resident must inform staff that they need to take medication. Non-prescription medicine such as aspirin, ibuprofen, etc. may be kept in the residents room, but must be reported to staff
a. Each resident is responsible for administering his own medication dosage as per the label instructions.
b. Each resident is responsible for reporting any adverse drug reaction to staff.
c. If resident is working full-time, or leaves on pass, an envelope with name of medication and dosage will be given to resident, who then assumes responsibility for the medication and its proper ingestion.
d. Any type of prescription medication which is found in a resident's room can result in immediate dismissal unless prior approval has been received from staff.
e. Each resident must notify staff in case of a doctor's appointment and, upon return from doctor, report any diagnosis and prescription ordered.
4. In case of sickness, time needed off work, or scheduled day off, resident may request permission from staff to remain in bed later than 8:00 a.m.
TRANSPORTATION:
1. Residents who have a car at Freedom House must have a valid driver's license, valid license plates, and provide proof of insurance.
2. Residents and visitors MAY NOT use the House driveway. It is for STAFF ONLY.
FINANCIAL RESPONSIBILITY:
1. Each resident is responsible for making good effort towards payment of rent each week to Freedom House. $100.00 per week.
2. The rent schedule runs from Friday thru Thursday and is payable weekly in advance.  Rent is due by 5:00 p.m. on Friday afternoon. A grace period of two days until Monday morning will be given. However, after that time a late fee of $2.00 per day will be imposed (maximum of $8.00 per week) and the rent will not be posted until the next cycle. (Note: If the resident cannot pay the full amount due, staff may waive the late fee provided that the resident is making a good faith effort to pay his rent.)
3. Each resident must initiate efforts to become self-sustaining, avoiding borrowing or lending; and paying for services rendered to the best of their ability.
4. It is recommended that residents carry no more than $40. Residents with more than that amount are encouraged to either have a savings/checking account or keep amounts greater than that in the house safe. The house will not assume responsibility if a resident has money and/or other valuables stolen from them.
VISITORS:
1. Visitors are welcome at the main house from 9 am until 9 pm. If the house is open earlier, it is up to the staff discretion whether visitors can be present.
2. Visitors are responsible for the supervision of their children.
3. VISITORS ARE ALLOWED ONLY on the main floor of the main house, including family members. Staff has the right to refuse visitation at any time, making sure reason is stated on resident chart. Residents of the ¾ living houses, who have visitors, must receive them at the main house as well. Visitors are not allowed in those residences.
4. Individual visitors may be restricted upon request of a resident or staff for the following reasons:
a. If the visitor appears to be under the influence of, or is strongly suspected of use of any form of drug or alcohol, as determined by staff.
b. If the visitor's behavior is disruptive to the residence or detrimental to the resident's recovery program.
HOUSE COURTESY:
Limit all telephone calls to FIVE MINUTES on the resident's phone (260) 456-9711. The only EXCEPTIONS to this are talking with a sponsor and professional business, and even this MUST BE APPROVED by staff.
a. Resident's phone always is answered with "Hello", NEVER "Freedom House".
b. Messages must be taken; residents are not allowed to verify another individual's residency.
c. Residents are responsible for answering resident phone.
AA/NA/CA MEETINGS:
1. New residents are required to attend one meeting each day for the first ninety days of residency.
2. After ninety days residents are required to attend a minimum of four meeting per week.
3. For further clarification of mandatory and/or optional meetings, refer to House meeting schedule.
4. Residents are required to document attendance at meetings by signing off on the meeting attendance sheet. If a resident opts to attend more than one meeting on a given day, they are to record one meeting only.
5. Any resident whether they reside at the main house or one of the other houses is required to attend a meeting if they are on the premises while it is being conducted.
UPON MOVING OUT OF FREEDOM HOUSE, ALL PERSONAL PROPERTIES MUST BE REMOVED. ANY ITEMS REMAINING AFTER THIRTY (30) DAYS WILL BE DISPOSED OF BY THE STAFF.
Halfway House Fort Wayne House Rules