FREEDOM HOUSE INC. OVERVIEW
The Freedom House is a not for profit agency that was founded in September of 1988 as a men's halfway house for the purpose of providing a transitional living environment for recovering alcoholics and drug addicts.
The original property consisted of one building located at 742 Walnut Street. Since that time it has grown to its present size consisting of six properties located on Walnut and Fox streets. In 2004 a new main house was built at the current address of 806 Walnut Street. This building has the advantage of being designed specifically as a group living home and houses the main office as well as serving as the first living quarters for new residents.
In the twenty five years that the Freedom House has been operating hundreds of alcoholics and drug addicts have gone through this facility and have successfully transitioned themselves from lives of addiction to become sober and responsible citizens of the community. While we cannot guarantee that an individual will break the bonds of alcohol and/or drug dependency, we do offer a sober and supportive environment, which will facilitate the individual's recovery if he chooses to take advantage of it.
The main goal of our organization is to provide a safe and structured environment that will allow the individual to recover in all aspects of his life including mental, spiritual, physical and financial. We accomplish this by encouraging the person to avail themselves of 12 step recovery programs (AA, NA, CA, etc.) and to participate in other out-patient treatment programs as applicable.
We also mandate that residents have or find gainful employment either upon entry or soon thereafter. It is essential that the individual learns the value of becoming financially self-sufficient as part of their recovery program. To these ends we offer individual counseling and assistance as well as monitoring each person's progress.
Upon entry each resident is assigned a bed in the main house (806 Walnut) and given a set of rules to follow which are designed to provide a sense of discipline. (Copy of rules attached). New residents are required to attend 90 meetings in 90 days (AA, CA, NA) and thereafter to attend a minimum of 4 meeting per week.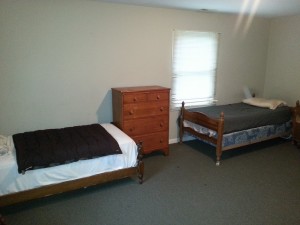 All residents are assigned chores to do in order to maintain the cleanliness and presentation of the house. Since our facility is open to the public and is also used as a venue for AA and CA meetings it is important that the facility is kept clean and presentable. This also gives residents a sense of pride. During their stay here we want them to think of this as their home and to be proud to be living here. Also, the bonds they forge while living here will be invaluable to them once they leave and take their place in the community.
Residents who, after a period of time, have demonstrated adherence to the rules and participation in recovery may be moved from the main house to one of the other properties. While they are subject to the same rules and expectations of residents in the main house, they do enjoy a certain amount of more personal privileges. These residents are also expected to assist new residents and to serve as an example of how to change from addicts to sober and useful members of society. We recommend a minimum stay of one year to establish a firm foundation of recovery.
No person is denied entrance to the Freedom House based on race, ethnicity, creed, handicap or sexual orientation. Referrals for admission come primarily from in-patient residential programs, treatment centers, detoxification units, hospitals and the court systems. We have an excellent working relationship with various drug court programs in the northeast Indiana region.
Residents are accepted on a first come first served basis and are expected to demonstrate an initial interest by calling or applying in person and pursuing daily follow up until being accepted for admission. Friends and family may wish that an individual pursue recovery, but true recovery depends on the desire of the affected person. The current capacity of the entire facility including the main house and the other residences is approximately 35.
The Freedom House prides itself on being an asset to our community and our neighborhood and ensures that all properties are maintained and kept in good condition. This includes regular upkeep of buildings, pest control, regular fire and safety inspections and the maintenance of the grounds as seasonally applicable (i.e. landscaping and snow removal). We have an excellent relationship with our neighbors and actively participate in all neighborhood association activities.
The rental rate for residents is $100.00 per week. We expect incoming persons to be able to pay rent; however will work with individuals on a case-by-case basis so as not to deny an individual an opportunity for recovery based solely on their financial status. In order to accomplish this we also rely on fundraising events (e.g. annual Freedom in the Park picnic) to offset our financial obligations. We also appeal to help from various foundations, corporate and individual donors as well as applying for federal, state and local grants.
The rent that residents pay covers their accommodations and five prepared meals per week with additional food provided which they may prepare themselves. The combination of fundraising, obtaining of grants and the generosity of our donors allows us to keep rental rates to a minimum and ensures that we meet our financial obligations while placing the recovery of the individual as our paramount goal.
The Freedom House is adequately staffed to ensure that a staff member is available at almost all times. Office hours are from 6 am to 5 pm Monday – Friday. However since several staff members also reside on the property there is usually a staff member readily available should the need arise. Residents may also contact a staff member by cell phone if necessary when no staff member is on the property. During the hours that the main house is open but the office is closed there is also a resident performing house watch who is responsible for ensuring that order is maintained.
We welcome any further inquiries about our facility and its operation. We also welcome and encourage any interested parties to visit us to review the premises and the services we offer. Call 260-456-8097 for more halfway house Fort Wayne information.